Welcome to WINTAC
Follow us on
Click to view the introduction video!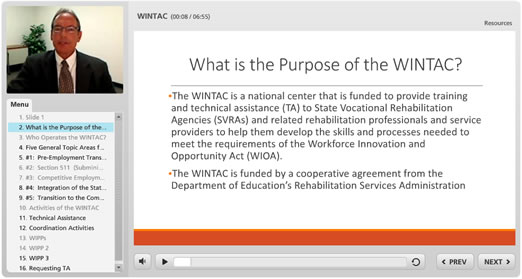 Essential Elements for Customized Employment:
This is a document that outlines elements that subject matter experts determined are essential to the practice of Customized Employment (CE). Funders such as VR agencies can use this information to inform Requests for Proposals for training in CE ,the development of contracts with providers of CE services and evaluating the effectiveness of CE practices.
Recommendations for Customized Employment Practices:
This document outlines practices that subject matter experts recommend for effectively practicing CE. This document focuses on practices related to Customized Job Development. This document can also inform training on and evaluation of CE.
WINTAC Brochure
Upcoming Online Live Training
Topics:
Karnsten Bekemeier Ph.D., Michigan Rehabilitation Services (MRS), will discuss the interpretation and implementation of Competitive Integrated Employment (CIE) and will present the CIE checklist developed by MRS for counselors and community partners to use in assessing work positions for WIOA compliance.
Training Date:
Thursday, May 10, 2018 - 12:00pm
Pacific Time
Training Date:
Tuesday, May 15, 2018 - 12:00pm
Pacific Time